HUTTONSVILLE — A new mountain bike trail system developed on a former strip mine in the Monongahela National Forest is now part of a single-track trail network rated among the world's best by the International Mountain Bicycling Association.
The Mower Basin Trails System, which officially opened June 5, is composed of four linked loop trails, each ranging from 1.5 to 2.5 miles, making possible rides of varying lengths and terrain types. The trails carry riders through open meadows with big-sky vistas into dense, shady stands of red spruce and along former mine benches overlooking newly created wetlands below and the ancient ridgelines of the Allegheny highlands in the distance.
The Mower Basin Trails are the newest addition to the Snowshoe Highlands Ride Center. It's West Virginia's first, and so far, only, mountain bike destination recognized by the International Mountain Bicycling Association for its extensive system of well-designed single-track trails suitable for all skill levels, among other criteria.
"These are mostly moderate to easy rolling contour trails with frequent grade reversals," and no long, steep uphill or downhill sections, said Jon Wheeler, recreation specialist with the Greenbrier Ranger District.
Atop this section of Cheat Mountain, where Mower Basin's trailhead parking area is perched at an elevation of 4,300 feet and most trails take riders to even higher ground, the horizon stretches out to dimensions not often seen in West Virginia.
"With all this open sky, people have started to call this place 'Mine-tana,'" said Jack Tribble, district ranger for the Greenbrier Ranger District, headquartered in Bartow. It was Tribble who put plans in motion to create the new trail system as part of a decade-long restoration project for the area in which it is located.
At the trailhead, one kiosk shelters a large map of the trail system with brief descriptions of the rides. Another sign lets riders know what's available in the Mon Forest's 10 gateway communities — Elkins, Parsons, Davis, Thomas, Cowen, Marlinton, Franklin, Petersburg, Richwood and White Sulphur Springs. A second kiosk contains a bike repair station where an assortment of tools used to make common repairs and adjustments dangles from cables secured to a post.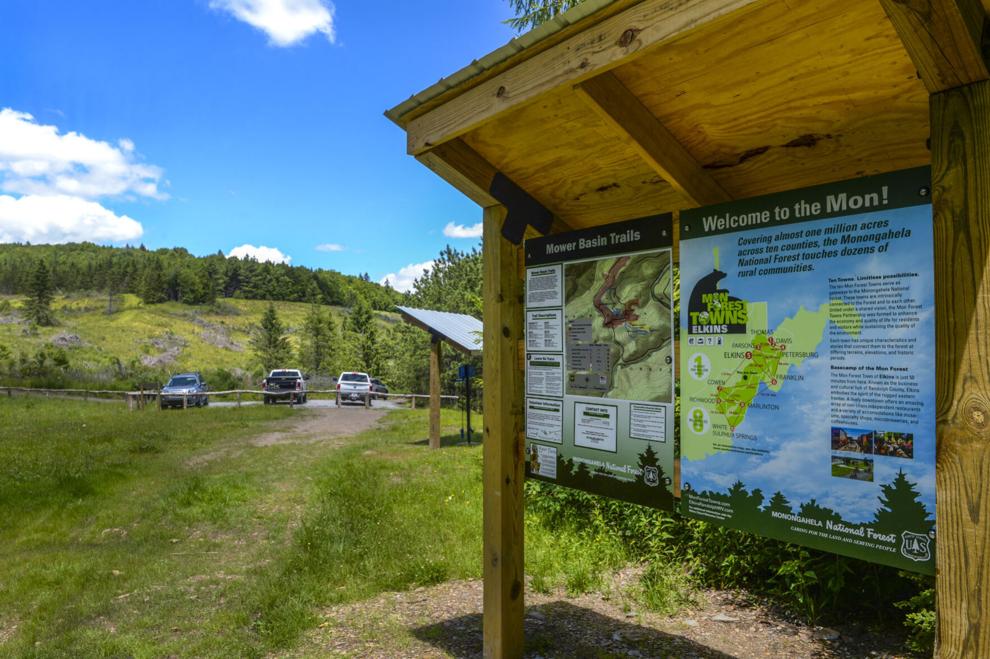 After a short hike up Hawks Ridge Loop, the longest trail in the system, Tribble stopped on a section of former mine bench where it is possible to gaze far into the surrounding Mon Forest high country, the source of numerous rivers.
"There's the Elk, that's the Tygart and this is Shavers Fork," he said, pointing out a series of notches between steep mountain ridges containing the streams. No buildings, farms, power lines or industrial smoke could be seen.
The 2,000-acre former contour mine on which the Mower Basin Trails are located is part of the 40,000-acre Mower Tract, a block of heavily timbered and mined land astride the Randolph-Pocahontas line formerly owned by the Mower Lumber Co. and acquired in 1987 by the national forest, with help from the Trust for Public Lands.
A mature red spruce forest once dominated the tract's highest terrain, while a mix of red spruce and northern hardwoods prevailed at lower elevations. Industrial-scale logging in the late 1800s and early 1900s decimated all but a few scattered stands of the evergreen, and wildfires fueled by tree limbs and tops left behind at clearcut sites incinerated the seed-bearing cones needed for the red spruce to regenerate.
"By 1919 it was all cut, and decades later, it was cut for a second time," followed by surface mining for coal, Tribble said.
The land under the Mower Basin Trails was mined in the 1970s, when post-mining erosion control involved compacting the soil used to restore the mined land to its approximate original contour and planting in it the grasses, legumes and non-native trees that could survive.
Former mine sites in the Mower Tract became a combination of non-native conifer plantations and pastures. The heavily compacted soil and thick grass cover made it impossible for native plant species to re-colonize the sites.
After being named district ranger in 2001, Tribble faced challenges, including planning the rehabilitation of the Mower Tract. He began with an outline involving a new version of the old three Rs: Roads, restoration and recreation.
"The roads in the Mower Tract were so bad people either couldn't or wouldn't come up here," he said. So major improvements to Forest Road 227 and other neglected roads in the area got underway.
Next came work to restore the natural ecology of the area. After an experimental Forest Service planting of red spruce seedlings on 75 acres of compacted mine lands soil produced dismal survival rates, the Mon Forest teamed up with the Lexington, Kentucky, nonprofit Green Forests Work to try a new solution.
Green Forests Work's approach was to doze off non-native trees, and then cut a crosshatch pattern of deep furrows across the compacted ground using dozers pulling ripper shanks. In 2011, during its first year of work on the Mower Tract, 90 acres of compacted mine land was ripped and nearly 23,000 trees – most of them red spruce — were planted on the site.
The work initially produced a landscape of dozer-toppled trees and severely disturbed soil. "It just didn't seem right for reforestation to look so ugly," Tribble said. But after determining that seedling survival rates ranging from 75% to 90% were produced, he got used to the process.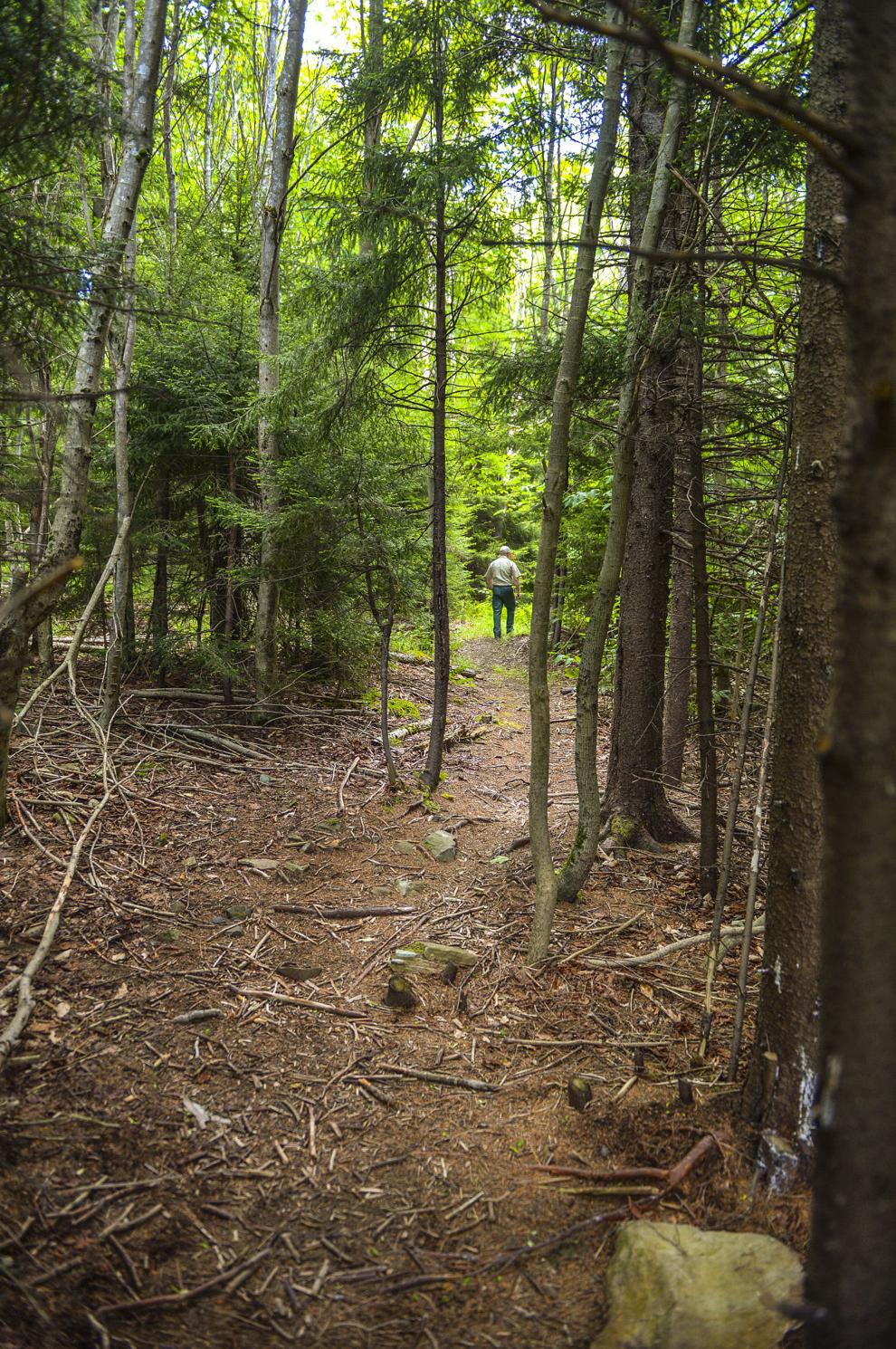 The work has continued each year since 2011, restoring more than 1,100 acres of former surface mine lands in which nearly 563,000 native trees and shrubs were planted as of this year. While red spruce accounted for the largest percentage of trees taking root in the restored land, tens of thousands of aspen, black cherry and speckled alder were also planted, along with more than 3,500 American chestnut seedlings.
Tribble estimated that about three more years of similar restoration work remains on the Mower Tract. When that's complete, he will be able to turn more attention to recreational developments on the land.
Already, 20 dispersed campsites have been created and are in use in the vicinity of the bike trail system on grassy, compacted mine lands left in place at sites with commanding views. There, campers can set up tents or park camping trailers on flat, dry ground, build campfires and take in night skies free of light pollution.
Funding for a second phase of stacked loop trails at Mower Basin has been approved, and the work likely will be completed during the next two years, Tribble said. A plan is also in the works for an eight-mile connector trail linking the Mower Basin trails to Snowshoe Mountain's trail system.
Most of the work on the Mower Basin Trail System was completed late last fall through a collaborative effort by the Mon Forest staff, personnel from the American Conservation Experience, WVU, the Pocahontas Trails Chapter of the International Mountain Bicycling Association and a grant from the West Virginia Recreational Trails Program.
"It's been enjoyable to see this project come together and see people enjoying it," Tribble said.
Elkins area volunteer Bruce Wohleber "put some of his mountain biking passion into trailblazing this system," said Wheeler. "He donated at least 500 hours of his time to this project. He's a great equipment operator, and he rides the trails on a regular basis."
The Mower Basin Trails System is one of four single-track trail hubs included in the Snowshoe Highlands Ride Center, now one of 16 ride centers in the U.S., Canada, Italy and New Zealand rated Silver-Level by the mountain bicycling association. Other centers in the same category include Colorado's Vail Valley and Steamboat Springs and Sun Valley in Idaho.
To reach the Mower Basin Trails from Elkins, follow U.S. 250 south to Huttonsville, then follow the highway for another nine miles to its junction with Forest Road 227. Turn right on the gravel Forest Service road and follow it for about six miles to a Mower Basin Trails sign, where a left turn onto Forest Road 227C and a drive of about 0.75 miles leads to the trailhead.