You'd never know it by watching them play, but Isaac McKneely and Mason Pinkett have endured their share of adversity.
That's what makes their ascension to first-team All-State and All-Kanawha Valley players that much more impressive.
For a second straight season, Poca's McKneely and George Washington's Pinkett have been selected as co-Players of the Year on the Gazette-Mail's annual All-Kanawha Valley boys basketball team.
The other first-team picks are Devin Hatfield (Herbert Hoover), Aiden Satterfield (Charleston Catholic) and Alex Yoakum (George Washington). McKneely, Pinkett and Satterfield are all repeat first-team choices.
The remaining All-Kanawha Valley honors went to Herbert Hoover's Josh Stricker (Coach of the Year), South Charleston's Wayne Harris (Rookie of the Year) and Nitro's Joseph Udoh (Defensive Player of the Year).
McKneely, a 6-foot-3 junior who has already given his commitment to the University of Virginia, averages 22.8 points and displays unlimited shooting range, canning 53 3-pointers thus far in 15 games. He also averages 4.3 rebounds, 3.8 assists and carries an impressive 3.17 assist-to-turnover ratio. McKneely shoots 49.3% overall, 41.7% on 3s and 82.7% at the foul line.
But the season has been a grind for McKneely in many respects.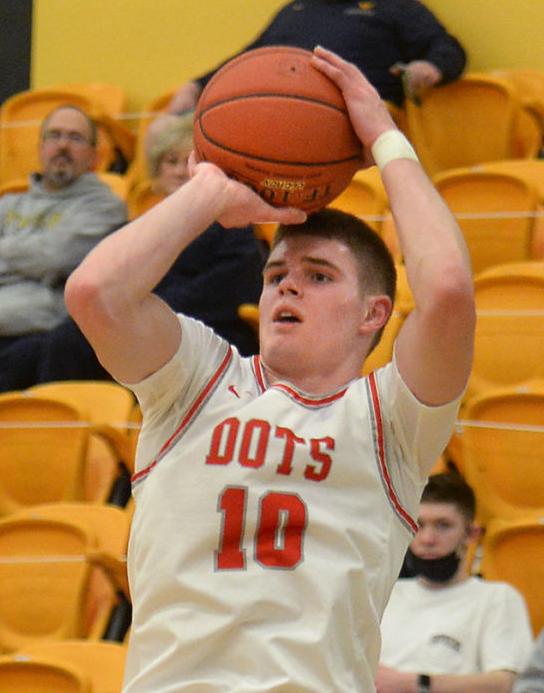 When COVID-19 prompted Gov. Jim Justice in late December to delay winter sports another seven weeks, the Division I prospect took to Twitter to announce: "I'm done,'' and said he would seek another place to play. That frustration, however, blew over and McKneely stayed put at Poca.
Then he hurt his heel during a March 26 loss to Winfield and, the very next day, turned his ankle on the game's first possession against Class AAA power Fairmont Senior, but continued to play through the pain.
During a four-overtime loss to Notre Dame on April 6, McKneely injured his right hand and experienced problems passing the ball with that hand.
Coach Allen Osborne said McKneely probably would have tried to play the team's next game three days later against Buffalo, but Poca was put on a two-week COVID-19 quarantine and did not play its final four scheduled regular-season games. It was the Dots' second COVID-related shutdown of the season.
"He really struggled for about two weeks trying to get healthy,'' Osborne said. "He's overcome some adversity and we're really proud of him. He never complained one time. He just kept working and staying focused.
"He's in the gym three mornings a week at 6:30 shooting. He's a great kid and really cares about this team and his school and his community.''
Of course, McKneely had his season take a major detour when Noah Rittinger, a potential All-State point guard, left the team for personal reasons after three games, which meant McKneely had to assume a lot of the ball-handling duties that used to be relegated to Rittinger.
McKneely, however, doesn't want to dwell on any of his own obstacles. He's just glad to get back to the state tournament. The Dots made it there his freshman season, losing to Bluefield in the first round, and were denied another shot last season when the pandemic shut down and canceled the season before they could host their regional game.
"Our whole team has gone through [adversity],'' McKneely said. "We went through a lot this whole year. Everyone has with COVID. It's just a blessing, and I'm really thankful to get to Charleston again, and I think we have a really good team that could win it. That's our ultimate goal.''
Even more than McKneely, Pinkett has seen his share of troubles. The 6-2 GW senior guard didn't complete an entire season in his first three years at the South Hills school.
As a freshman, he missed five game in midseason with an ankle injury, but flashed enough talent to score just over 10 points per game and was selected as the Gazette-Mail's Rookie of the Year.
The following season, he suffered a serious knee injury that forced him to miss nine games. He returned near the end of the regular season, but tweaked the same injury soon after and was done for the year. Last season, of course, COVID canceled the state tournament after GW had won its regional game to qualify for a fourth straight time.
So it's Pinkett's last go-round this month, and this time he plans to finish and make the most of his opportunity.
"I just stay in the moment,'' Pinkett said. "I know I've had some unfortunate luck, but I stay in the moment and stay focused on this year's goal. It's a new year, a new team. I'm feeling confident about our chances.''
Rick Greene, GW's veteran coach, estimates that Pinkett has missed anywhere from 25-30 games during his career due to the above impediments, but marvels at his resiliency.
"To have a major injury and come right back and be first-team All-State says a lot about him," Greene said. "With all the things he's gone through, he's still been there and still done a lot for the team.''
Even this season, Pinkett can't quite shake the injury bug. He hasn't missed a game, but developed a sore hamstring before the sectional final game against South Charleston and it got even tighter during that game. In the four days that followed, Pinkett didn't even practice before GW's regional game versus Greenbrier East.
"He did some light stuff,'' Greene said, "and basically was on the sideline putting up shots, moving around some.''
Pinkett gutted through that regional game with nine points and Greene thinks he's now back to 100% for GW's state tournament date Thursday against Jefferson. Pinkett has been able to maintain his high level of play, averaging 18.7 points, 3.9 rebounds, 2.9 assists and 1.5 steals while shooting 45% overall and 77% on free throws. He also handles the ball much of the time for his team's highly effective offense.
Greene said Pinkett appreciates the individual attention he gets for his exploits, but would rather see the team do well.
"Anybody likes individual accolades,'' Greene said, "but that's not what he's about. He wants to win. He feels like last year we didn't get the chance to see what we could do.
"This is his last year, and the better your team is, normally the better chance you have to win individual awards. He's not about the individual thing at all, and that's where the frustration comes in because he wants to win so bad that he gets frustrated when things aren't going good.''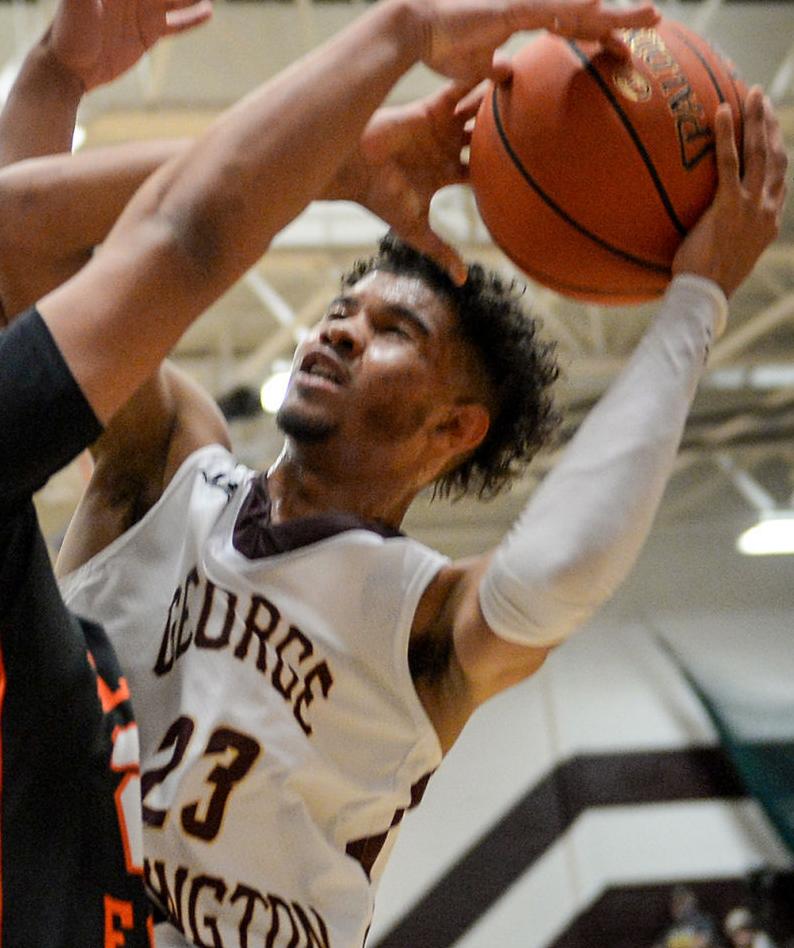 Pinkett, like McKneely, is a candidate for the Gatorade state player of the year award.
Here are capsule looks at the other first-team selections and award winners:
Hatfield: A 6-1 junior point guard and a transfer from Mingo Central, he helped turn around the fortunes of the Huskies, who were 7-17 last season. Not only did he lead Hoover in scoring (20.3) and assists (7.0), he also averaged 4.8 rebounds and 2.6 steals and drew 22 charging fouls on opponents. Hatfield shoots a sharp 42% on 3s, 47% overall and 88% on foul shots.
Satterfield: A versatile 6-7 senior who has signed to play at West Liberty, he leads the Irish in scoring (20.9 points per game) and also averages 8.0 rebounds, 2.5 steals and 1.5 assists and has thrown down 15 dunks. Satterfield improved his shooting, making 51.3% of his field goals overall and a sharp 43.5% from 3-point range. He also shoots 88.5% on free throws.
Yoakum: One of the Kanawha Valley's most improved players, he upped his scoring average from 10.6 points per game last season to a team-leading 21.4 this season, including 30 points in the regional win against Greenbrier East. He also averages 2.9 rebounds, 2.8 assists and 1.9 steals and shoots 40.2% from 3-point range and 81.5% at the foul line.
Stricker edged Winfield's Chris Stephens for the Coach of the Year award by taking his Huskies team from a 7-17 record — with 10 losses by 10-plus points — all the way to 13-3 and securing just the program's second state tournament berth since the Elk River school opened in 1963. Hoover's three losses this season have all come to state-ranked teams (Nitro, Logan, Chapmanville) by a total of just 11 points.
Hoover lost two of its top three scorers from last season to graduation, but devised a new attack led by the scoring and passing of Hatfield. Stricker also coaxed massive improvement from sophomore guard Eli Robertson, who tripled his scoring average to 14.5 points per game, and from Trevor Rager, a seldom-used inside player last year who is now considered one of the team's best defenders.
Stephens guided the Generals to a 13-6 record and a spot in the Class AAA state tournament without a real go-to scorer — the team's top two threats average about 10 points per game. They navigated a schedule that included 10 state-ranked teams, including wins against Poca, Logan (twice) and Chapmanville.
Harris shaded Charleston Catholic freshman Jayallen Turner for the Rookie of the Year award after stepping into the South Charleston lineup as the starting point guard as a mere freshman and helping the Black Eagles turn last year's 11-12 record to 12-6 this season. He averaged 11.8 points, 3.5 assists and 2.0 steals.
Turner became the third scoring option for the Irish, earning a starting spot midway into the regular season. He averages 9.5 points, 3.6 rebounds, 1.5 steals and 1.1 assists and leads the team in offensive rebounds. Turner shoots 56.5% from the floor.
The introduction of the mobile 6-foot-9 Udoh, a senior transfer from Sissonville who carries a big inside presence, allowed Nitro to adopt a defense-first mentality this season for a program that brought back four starters. The Wildcats allowed 65 points per game a year ago, but that's been lowered to 49.8 this season, with all three postseason opponents held to 42 points or fewer.
When he's not blocking (2.5 per game) or changing shots, Udoh averages 13.3 points, 11 rebounds, three assists and one steal.